History
Bricco Dei Tati is located in the heart of the lower Langhe region just one mile from the village of Treiso.  Treiso got its name in Roman times because it was the third milestone (tres for three) on the road from Alba, the nearest city and was the point where Roman armies arriving from Savona could change their horses. Ancient documents refer to it as "Trayso," "Trasio", Tresio," or "Traizo." Alba and Asti fought over Treiso in medieval times and it was the scene of many bloody battles. Later, during World War II it again was the scene of fierce fighting.  Treiso lies at more than 400 meters above sea level, which is why many vineyards in this area are planted in Dolcetto and Moscato.  The local farmers and winemakers believe that the Barbaresco grape needs a lower altitude to ripen fully.
Treiso is just down the road from the locally renowned natural amphitheater created by erosion, "Rocche dei Sette Fratelli" (The Rock of the Seven Brothers).  Walter Lodali, a talented young winemaker whose cantina is in Treiso, and a good friend of ours, has a large vineyard along the western face of this formation and from these grapes he makes a wine named after the landmark.  The local ancient legend has it that seven brothers were working in the fields on Good Friday and they refused to stop working to honor the Procession of Christ as it passed them led by the local priest.  Their sister came to bring them their mid-day meal after the priest and townspeople passed by and she watched as the earth suddenly opened, swallowing the brothers.  The natural rock formation shows seven "fingers" of land, one for each dead brother.
Treiso and the surrounding area suffered greatly during World War II.  Many young local people, men and women, were killed fighting on the side of the Resistance.  There was a substantial German military presence that fought brutally against the Partisans, making life sad and difficult for the locals.  They confiscated livestock and food from the local farmers, including the precious commodity of the region, wine.  The list of names on Treiso's War Memorial across the street from the town bar is long.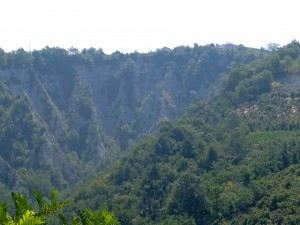 Rocche dei Sette Fratelli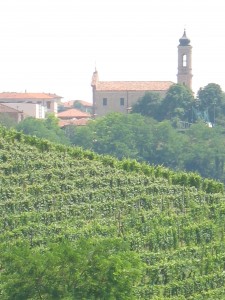 Treiso
Source: The Wine Atlas of the Langhe, Slow Food Editore